Baseball players are amazing in their own way, each and every day. May be a single statistic. Might be who they are on and off the field. Here are fifteen reasons why I believe Toronto Blue Jays player Randal Grichuk is a wonderful human.
1. He's a Texas boy. Randal was born in Rosenburg, Texas, in the Houston area. I am a Texas native and Texas is a huge part of my heart. Seeing and hearing of fellow Texans makes my heart explode.
2. He's of Eastern European heritage. Recently Randal mentioned he comes from Czechoslovak and Russian bloodlines. I am Slavic on my mother's side of the family, so seeing fellow Eastern European folks makes me happy inside.
3. He won an MVP award in high school. Randal attended Lamar Consolidated High School and played baseball there. He had quite the career. In 2008, Randal was given the honors of the All-Houston Area Most Valuable Player (MVP) and was a First Team All-State Outfielder. To me, that is beyond impressive. Let me sing a little song: The high school outfield stars at night, are big and bright, DEEP IN THE HEART OF TEXAS!
4. He's a two-time Little League Participant. Randal played twice for the Richmond, Texas-based team Lamar National, first in 2003 and then in 2004. In my opinion, that's a really good sign of a future talented player. I see that as potential good karma for his baseball career.
5. He is a very talented batter. He has a powerful swing and, as of 2015, can hit balls at just over 93 miles per hour. This is all by himself. The average for all batters across all teams is just over 97 miles an hour. In addition, his skills set includes hitting powerfully to all fields with about two dozen home runs a season. That is very fascinating and fantastic in my eyes. He seems like the type of person you'd want to have around to help your team regain the lead.
6. He has a Minor League Gold Glove Award. Gold Glove Awards are very high praise. However, winning one in the Minors? That's what happened to Randal in 2013. Quite the praise for a minor leaguer, am I correct? I think that fuels him to do his best, offensively and defensively.
7. He earned a Minor League Player of the Month award. As if a Minor League Gold Glove award isn't enough, Randal got even more praise with this award. He won this award in May of 2014, the month after he made his Major League Baseball debut (which was on April 28, 2014). What a wonderful way to celebrate your Major League Debut and start on the track to success!
8. Baseball America named him to their 2015 All-Rookie Outfield Team. Just when things couldn't get any better for Randal, he receives yet another well-deserved award. Considering the fact he performed very well in the year 2015, including being a hit to second base shy of the cycle (where players hit to first, second, and third base, and a home run all in the same game) a three-hit game, and a two-home run game, that is a well-deserved honor and seems to have been a good luck charm for him.
9. His defensive skills are fabulous. One of Randal's most notable skills is his defensive jump he uses to make catches. He also precisely runs and positions himself to make the catch.
10. Topps named him an All-Star Rookie at Outfield. Things went well for Randal and the Cardinals in 2015. Not only did he play very well individually, but the Cardinals were the best team in the National League Central division that year. When you already are doing well and your team has played well, earning this honor is like placing homemade whipped cream on a delicious slice of pumpkin pie
11. He makes impressive catches! In a game in 2018 against the Houston Astros, George Springer was looking to tie or win the game for Houston. "Not today, Houston!" was the message Randal sent as he jumped into the air and turned that home run into an out. Eventually, the victory would go to Toronto. That's just one example of the amazing catches Randal can make!
12. He is kind to people. On Twitter, I saw a video of Randal wishing a major fan of his well from the official Blue Jays Twitter account. He also congratulated the fan on their graduation. That goes to show how kind Randal can be.
13. He led his high school team to the playoffs. in 2009, Randal had a .435 batting average, 18 home runs, and 45 RBI (Runs Batted In, which is when a player hits to a base and sends their teammate to home plate, scoring a run). His high school won a record 29 games and went to the playoffs. In addition, Randal won the following honors: 2A-4A District MVP, Fort Bend Area MVP, First Team All-State Outfielder, EA First Team All-American, and Baseball America First Team All-American. In the playoffs, he had a .613 batting average with 21 home runs, 46 hits, 46 RBI, and 47 runs. I'm starting to think there's definitely something in the Texas water!
14. He is an RBI machine. Randal had 80 RBI in 2019 and during his whole career, he has 323 total. Impressive numbers, are they not?
15. He is talented at hitting home runs. His 2019 home run total is 31 and 122 is his career total. I don't know about you, but that's pretty good!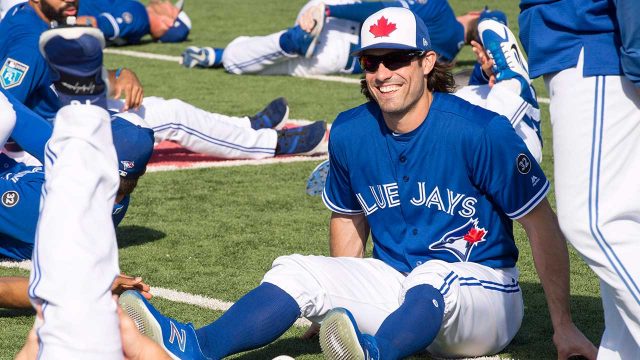 Say what you want about Randal Grichuk, but he's awesome from my perspective!
SOURCES:
https://www.baseball-reference.com/players/g/grichra01.shtml
https://en.wikipedia.org/wiki/Run_batted_in
https://en.wikipedia.org/wiki/2015_St._Louis_Cardinals_season
https://en.wikipedia.org/wiki/Randal_Grichuk
https://www.si.com/mlb/2018/06/26/randal-grichuk-robs-george-springer-home-run-blue-jays-astros-video