I fondly remember joining Twitter in August of 2015, during my first two weeks of college. My geology professor suggested joining the website to stay updated on university related geology information and content. As soon as I joined, one of the very first Twitter accounts I followed was the Colorado Rockies.
It turned out to be the best Twitter decision I have ever made. I will never forget the very first time the Colorado Rockies responded to me on Twitter. They posted a GIF of Corey Dickerson high-fiving his teammates to celebrate a tradition known as Purple Monday back in September 2014. I Tweeted at them, "Corey sure looks super pumped up!" Moments later, they responded, "Truth be told, he probably just crushed a home run." I knew right then and there that I was in for a real treat with being a follower.
Another one of my favorite exchanges with the Rockies was in December of 2017, during finals week at my university. I was playing a game of Find Dinger. After letting them know I had found Dinger, I said that I hoped it meant good luck for a final, and they wished me luck. So kind of them to do that. I felt much more confident in that moment.
My absolute favorite part of the Colorado Rockies social media team is the inside joke with the fans about the account being run by Dinger the Dinosaur and unpaid interns. I mentioned in my post expressing my appreciation of Major League Baseball mascot that I noticed a thread about how MLB teams are run.
The Rockies talked about how their account was run by an unpaid intern. I quoted their Tweet and said, "I thought that Dinger ran the account @Rockies." They replied, "He is unpaid and still intern status." Even though I know the account is run by humans, I will still refer to Dinger as the boss of Rockies social media from time to time.
The Rockies are very uplifting and kind on social media, too! Back in October of 2016, I was going through a rough patch. I had been sick for about a month, was struggling with a wave of severe depression that I thought was lasting forever, and had midterms coming up the following week. The social media team posted photos of players' handwritten thank-you notes to fans. I instantly let them know that it really cheered me up and they let me know they were happy that I was feeling better.
Another thing I adore about the social media team is how much they adore the fans. I remember letting them know that I was really excited to see them over Labor Day Weekend. I tweeted at them, "See you love bugs in three days, hope to become a STH in the near future." They replied with, "Awesome. See you soon. You're the best!" I can't describe how much more excited I felt to attend the Labor Day Weekend game because of that. I felt so accepted, so appreciated, so adored.
Back in June of 2019, I spent two and a half weeks away from social media to help myself focus better on my freshman orientation resident assistant job. When I finally logged back in later in the month, I told them how much I missed them, and they let me know that they missed me, too. It makes me so happy that the social media staff value me as a fan and enjoy interacting with me.
An exchange that means the world to me is when I suggested I should treat myself to a game between themselves and the San Diego Padres if I got good grades at the end of the semester. The Rockies agreed and offered to give me tickets if I reached a certain goal. We agreed on a GPA of 3.5 or higher. I am very grateful for that offer because it really fueled my study habits that semester. I finished with three A grades and one B grade in the four classes I took, and I am thankful for the Rockies social media team for the motivation.
They also have a really great sense of humor. I remember when some of the players were coming to my university, and I felt so badly because I had to be in class when they were coming. I posted how bummed out I felt on a Facebook post of theirs. They replied to my comment with two words: "Cut class?" Although I was the kind of person who preferred to avoid skipping school, looking back on it, it's hilarious.
They also have a very fun personality on Instagram. Back in August, they played a game against the Atlanta Braves to make up for one that was postponed in April due to inclement weather. Ryan McMahon won the game for the Rockies, and they made a post on Instagram captioned, "McMagic at 20th & Blake!" Beautiful caption. I adore Ryan McMahon and I love the Rockies. I am so happy he is part of the team.
I am in love with the existence of dogs. I mostly have an Instagram account to look at cute dogs. Some of my favorite posts on Instagram are when the Rockies post photos of their players with their pets. Amazing two-in-one combo. Cute dogs and my favorite team.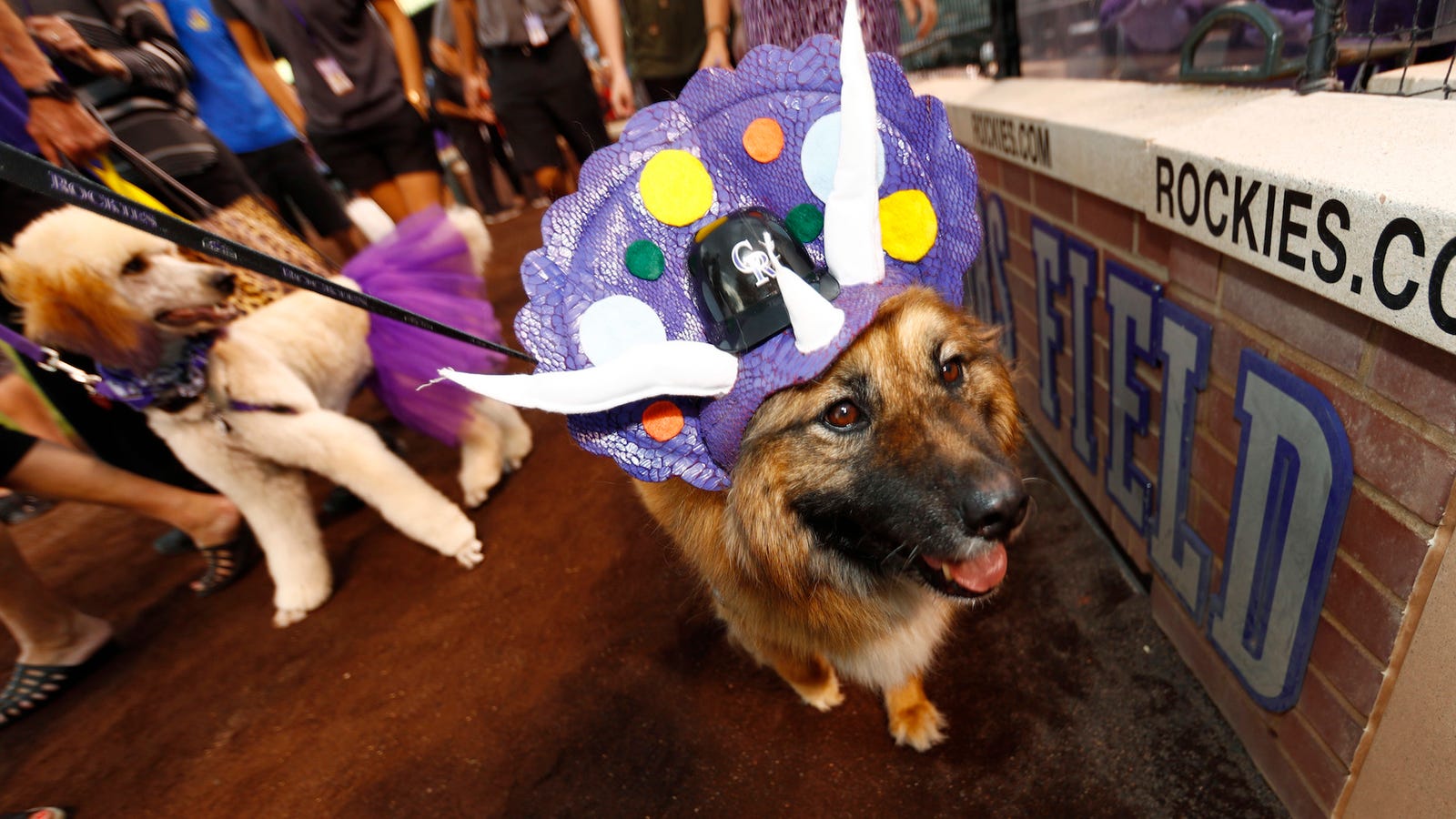 Probably the most hilarious post was back in April, when they made a March 1 vs April 1 comparison meme, with a younger Charlie Blackmon representing March 1 and a very current photo of Charlie representing April 1. It's hilarious and accurate. I was under doctor-mandated quarantine due to flu-like symptoms, and I was restricted to literally two rooms in the top floor of my home for a little over a week. I felt like I aged 24 years in that time. Love that the team brought a laugh to my experience.
My absolute favorite part of the Colorado Rockies Fan Fest in January was the social media panel. I remember I sat down and Julian Valentin, boss of social media, was discussing a key part of the social media team. I asked Julian if it was true that Dinger didn't run the accounts like I had always believed, and I almost cried. Julian quickly apologized and said that since Dinger didn't have his own accounts, he did guest posts. Immediately I forgave him because I could tell he was a kind person.
Later on, I let Julian know that I had a panic attack and he let me know that he cared about my mental health. He didn't want me to feel uncomfortable or upset at the ballpark. I really appreciated that Julian cared about my mental health. It felt just as amazing as when the Rockies let me know on Twitter that they were glad I cheered them up.
Something that really sticks with me is when Julian said the Rockies won an award for the best social media team. Very well deserved! They make wonderful content and they always make my day. I am so happy I have Tweet notifications turned on for them! I love seeing their amazing content!
Back in March, I let Julian know how much the notes to fans in 2016 meant to me, how much I appreciated that he cares about my mental health, and how I loved getting to celebrate my birthday at Fan Fest. He thanked me for the note and let me know that he cares about my health and hopes I stay well. I truly see him as a wonderful human and I am super grateful for him.
Rockies social media, you guys are truly fantastic. I am so blessed to be a fan of you. Keep up the great work my loves.