Question: who has piercing blue eyes, is a Texas native, and is the fastest shortstop to reach 100 home runs? Answer: Colorado Rockies shortstop Trevor Story! He is a talented, classy, fabulous person who deserves a lot of positivity.
I have a huge crush on Trevor Story. I remember gushing to my sister over his eyes on multiple occasions. In addition, he has an adorable smile that just makes my heart melt. There's also something about his beard and his voice that just makes me want to swoon. Trevor truly is a handsome man.
Trevor is a very talented player, too, in my opinion. He has a .276 batting average, 123 home runs, 347 runs batted in, and 65 stolen bases. That's super impressive, in my opinion. I think that shows that Trevor is proving his place on the Rockies roster. Not only that, but he has two Silver Slugger awards and has gone to the Major League Baseball All-Star Game twice in his career. I have a very strong feeling that Trevor will hit for the cycle soon. Here's my prediction for how the cycle will go: second base, home run, first base, third base.
I'm beyond proud of Trevor's storybook start to his career (no pun intended!). His very first career hit? A three-run home run off of Zack Greinke of the Arizona Diamondbacks. I believe that is a sign that a team has added an offensive powerhouse to their team. In all, Trevor finished his rookie season with 101 hits, 67 runs scored, 72 runs batted in, and 27 home runs. It's very interesting how his jersey number is 27 and he hit that many home runs in 2016. Despite his season-ending thumb injury, I still wish he'd finished in the top three for 2016 Rookie of the Year voting.
In my opinion, Trevor is proving himself to be a reliable source of walk-off wins for his team. A very special example of this is during a game between the Rockies and the Seattle Mariners. Trevor hit a walk-off solo home run to complete the sweep of the series (when one team wins all the games in a two- to four-game series) in Denver. Best of all, it was right before he was scheduled to Washington, D.C. to get ready for the All-Star Game, his first appearance ever. Beautiful way to celebrate your first time being a professional baseball All-Star, is it not?
Another gorgeous walk-off happened in May of 2019. It was already a beautiful game for Trevor, as he had hit his 100th home run, a two-run home run in the seventh inning. He was the fastest shortstop to reach that milestone, surpassing baseball legend Alex Rodriguez. Two innings later, Trevor crushed his 101st home run, a walk-off home run to help the home team win eight runs to six.
Later on that year, during the second-to-last game of the year, Trevor led the Rockies to another walk-off win, this time against the Milwaukee Brewers. Josh Hader gave up a game-tying home in the ninth inning, sending the game to extra innings. Trevor helped the Rockies win with a walk-off home run. I feel like that set in motion the events that happened the next day, which is the Rockies winning the very last game of the 2019 Major League Baseball regular season in the thirteenth inning.
I felt beyond satisfied at the end of the last series of the year. Since the Rockies won all three games against Milwaukee, thanks in part to Trevor's walk-off, it felt like revenge for the National League Divisional Series the year before. In 2018, the Milwaukee Brewers eliminated the Rockies from the playoffs by sweeping them. When the Rockies beat them all three games of the last series and prevented them from winning the National League Central division, I felt a sense of joy and relief. It proves that you can't take the fight out of a team or a player, no matter how rough the year is.
Last but not least, Trevor is a very classy person. In 2017, after Hurricane Harvey wreaked havoc upon Texas, Trevor and fellow Texas-born baseball player, Chad Bettis, decided to team up to raise money for those affected. Super classy of Trevor and Chad to do that. It goes to show just how much southern hospitality Trevor has in his heart.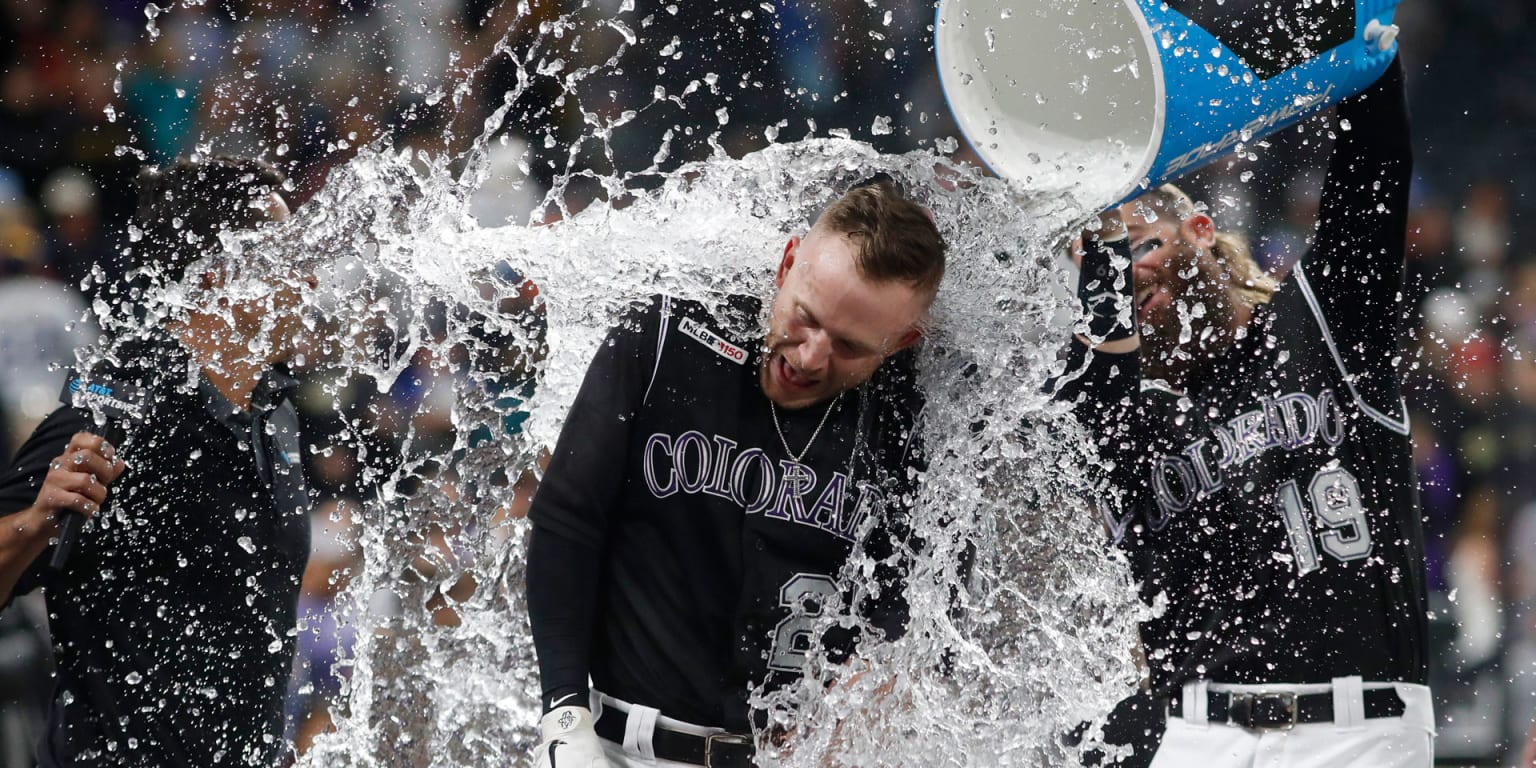 Trevor is an amazing player and person, and I am so grateful for him. Allow me to sing a little song: The shortstop stars at night, are big and bright, DEEP IN THE HEART OF LODO!
SOURCES:
https://www.mlb.com/news/brewers-sweep-nlds-advance-to-nlcs-c297322176
https://www.9news.com/article/sports/mlb/colorado-rockies/rockies-sweep-brewers-in-2019-season-finale/73-24cea039-1aad-438d-8d6d-ff48eadc3d8f
https://en.wikipedia.org/wiki/Trevor_Story
https://www.9news.com/article/sports/mlb/colorado-rockies/story-hits-walk-off-home-run-rockies-upset-brewers-again/73-f31e6dee-2b2a-4efa-bfa3-8af133930deahttps://www.mlb.com/rockies/news/trevor-story-smacks-walk-off-home-run-c285992686