A gold medal from the World Baseball Classic. Three consecutive Platinum Glove awards. A walk-off cycle on Father's Day 2017. What do all of these have in common? They all describe Nolan Arenado, beloved Colorado Rockies third baseman! He is my absolute favorite player not just on the Rockies, but in Major League Baseball as a whole.
Nolan, a native of Orange County, California, started his magical career as a student at El Toro High School. He was named to the Los Angeles Times' All-Star Team twice, when he was a junior and a senior in high school. That comes as no shock to me considering the fact he played extremely well. He was the Batting Average, Runs Batted In, and Runs Scored leader in eleventh grade. His batting average and On Base Percentage increased his senior year. Given these statistics, there is no doubt he deserved those honors. Nolan has been proving his place since before he was drafted.
One of my favorite Nolan moments is his very first career grand slam. The Colorado Rockies were already leading 5-3 against the Tampa Bay Rays. Bases loaded for Nolan, he hits it out of the park, and there it goes. Only six games in, and he already has a grand slam. I'm still as impressed as I was when I was in the tenth grade. I knew for a fact that Nolan was going to make a name for himself. He knocked my socks off very early on.
Nolan continued to make a name for himself all year long. At the end of 2013, he received a Gold Glove Award, the first National League rookie to do so. He had the most votes as a third baseman for the 2013 National League Rookie of the Year. He ended up in seventh place in voting overall, with the honor going to the late Jose Fernandez. Such an impressive way to start your career, is it not?
You may be wondering what my absolute favorite Nolan moment is. If I didn't say it was his walk-off cycle, I would be dishonest. I will never forget coming home from a Father's Day meal and getting ready to bake a batch of his favorite Ghirardelli brownies when I learned he had hit for the cycle and helped complete a sweep of San Francisco. I was beyond excited. As quickly as I could, I posted to Facebook a photo of Nolan celebrating and the following caption: "Congratulations to my amazing husband, Nolan Arenado, on his cycle!" Getting to relive that game on March 26 as part of MLB's "Opening Day at Home" movement was beautiful.
The 2017 World Baseball Classic will be stuck in my head for the next 28 octillion years. I remember I was doing homework for my introductory sociology class and following along closely. I was feeling pretty nervous and I mentioned to my sister. I sent her a GIF of a kid in a red turtleneck screaming bloody murder. In the end, Team USA won, which meant gold medal for Nolan. I am still so giddy he won that; he deserves it very much!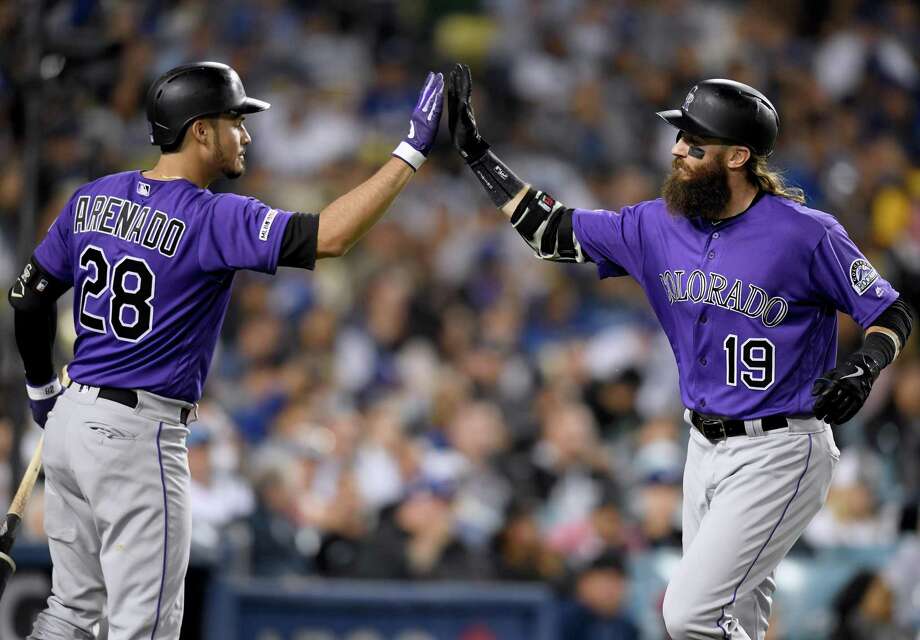 Nolan is the most talented third baseman in franchise history. He has five All-Star Game appearances, seven Gold Glove Awards, four Silver Slugger awards, three Wilson Defensive Player of the Year Awards, three National League Home Run Leader honors, and two National League RBI Leader honors. He also was a National League Most Valuable Player finalist in 2018. However, he finished in third place, and the honor went to Milwaukee's Christian Yelich instead. Still, Nolan is incredibly gifted and I'm beyond elated that he was named a finalist. I believe that will pave the way for Rockies players to become MVP finalists and hopefully he and Blackmon will win the awards in the near future.
Nolan is also a really good sport, in my opinion. I mentioned in my review of the Stay-At-Home-Opener that I loved seeing him pat San Diego Padres player Wil Myers on the back. Additionally, when the Rockies congratulated Yelich on his MVP award, they used a GIF of Nolan hugging him. Absolutely adorable. I strive to be as amazing as Nolan is. He is sweet as sugar to his opponents, and I love that for him.
Who else remembers the iconic hug between Nolan and Javier Baez during the NL Wild Card in 2018? I remember it and I love it. Nolan was trying to tag him out, and it ended in a hug. There's just something so darn cute about baseball players hugging. It just brings me so much joy that these athletes compete against each other but show love and compassion for one another.
This year, I decided to bake a cake for Nolan's birthday. The way I frosted it made it look like the Rocky Mountains. It was a yummy cake and I'm glad I baked it. It was fun getting to celebrate my favorite player's birthday.
Honestly, Nolan Arenado is the love of my life. I have had a huge crush on him since I was sixteen years old. He has a beautiful smile, a beautiful beard, a beautiful voice, a beautiful personality, and a beautiful pair of eyes. I love to pretend he's my husband. The fact he has a street named after him makes me more crush crazy for him. He's so handsome, so talented, so funny, so kind and loving. He makes my heart melt at crazy fast rates.
I can't imagine loving any third baseman more than I do Nolan. He is the most talented and fantastic person ever. Stay awesome, Nolan, and thank you for being amazing all day every day.
SOURCES:
https://en.wikipedia.org/wiki/Nolan_Arenado
https://www.usatoday.com/story/sports/mlb/2018/10/03/mlb-playoffs-hugging-incident-cubs-rockies-nl-wild-card-game/1507107002/