I fondly remember a very specific word problem from Algebra 2. It was about an American football kicker. The word problem was to figure out how high the football went when the player went for a field goal. Now that we're on the topic of American football, I feel like that football kickers are the unsung heroes of football. My favorite team? The Denver Broncos. My favorite kicker? Brandon McManus.
Brandon, a Leo, was born on July 25, 1991, in Philadelphia, Pennsylvania. After graduating from North Penn High School, Brandon attended Philadelphia's Temple University, where he majored in biology in the pre-medicine career path while playing for the Temple Owls football team. Hats off to Brandon for that. I imagine that being a pre-med student athlete means a pretty busy schedule.
Speaking of Brandon's college career, he left a very good mark on Temple's program. During his tenure with the university, he tallied 338 points scored, 60 field goals completed, 83 field goals attempted, and a 45.3 punting average. Those are all university records. There is not a shred of doubt that he was a magical member of the team and that he carried his talents to the pros.
This talented human played a key role in the Broncos' Super Bowl 50 season. After winning the kicker job at the start of the 2015 season, Brandon became the third field goal in National Football League history to make multiple field goals of 56 yards or more in the same game. He achieved the feat on September 13, 2015. Not only that, but in a playoff game versus Pittsburgh, he tied a playoff record of five field goals in a single game, helping Denver clinch a 23-16 victory. In the Super Bowl, his three field goals and extra point were key factors in the Broncos' 24-10 win versus the Carolina Panthers. In fact, his ten playoff field goals are a Denver Broncos franchise record. What a king!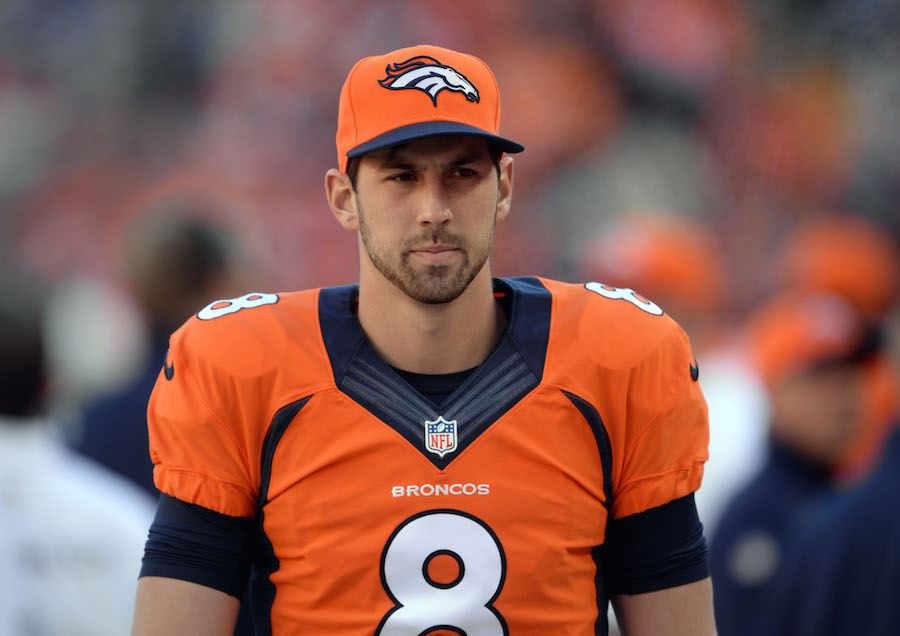 Of course, Brandon wasn't a shining star in only 2015. He's been playing very well all career long. In seven games in 2020, the very talented athlete completed 14 field goals on 15 attempts, as well as 13 extra points on 14 attempts. Over his career, he has completed 155 field goals on 188 attempts, and 208 extra points made on 212 attempts. That's a 93.33% field goal completion rate and a 92.86% extra point completion rate in 2020 alone. During his career, Brandon has an 82.45% field goal completion rate and a 98.11% extra point completion rate. Those statistics indicate a very talented kicker, in my opinion. Yes, I did all four calculations on my own. Yes, I rounded to the nearest hundredth.
In addition to being a talented player, Brandon is a husband and father with a close relationship with his teammate, Von Miller. He named Von as the godfather to one of his twin sons, Luca. Although Brandon's brother-in-law is the godfather of Luca's brother Caden, Von mentioned he cares for both twins and will watch out for the brothers. Per his Instagram page, Brandon seemed very grateful to be a father to the twins. I also adore his friendship with Von.
Overall, Brandon is a wonderful human. He has his own charity, Project McManus, which he started in 2019. Project McManus helps at-risk and underprivileged youth with events and programs that enrich resources, education, and overall wellbeing. He pledged to fund 20,000 meals through his charity in the wake of the coronavirus pandemic. That is so wonderful on his part. Considering the fact that people lost income and jobs as a result of this pandemic, it feels amazing he's helping people in the community get a delicious and nutritious meal when they're in a tough spot. Also, there are students who only get meals at school, and schools closing impacts them. It's really wonderful of him to offer a helping hand to his community during this brutal time.
Stay amazing, Brandon! You're one of my favorite Broncos players of all time.
SOURCES:
https://www.pro-football-reference.com/players/M/McMaBr01.htm
https://en.wikipedia.org/wiki/Brandon_McManus
https://www.denverbroncos.com/news/what-they-re-doing-is-great-work-brandon-mcmanus-discusses-donation-to-food-bank
https://www.slader.com/discussion/question/a-football-kicker-tries-to-make-a-field-goal-with-the-ball-on-the-25-yard-line-105-ft-from-the-goal/
https://en.wikipedia.org/wiki/Astrological_signhttps://www.denverbroncos.com/news/an-offer-he-couldn-t-refuse-how-von-miller-became-godfather-to-one-of-brandon-mc