Back in August of 2018, the Colorado Avalanche posted a video of Nathan MacKinnon and Gabriel Landeskog. I Tweeted at them, saying "I hope to one day fall in love with someone who loves me the way Gabe loves Nate." They responded: "Find yourself a teammate!" That was the first response on Twitter I got from the Colorado-based team. I was so happy when I got the response from those angels.
The social media team is so fun, amazing, and interactive. I remember letting them know I was having a bad day. They replied to me saying, "BIG hugs for you." I felt like they cared about me. They also absolutely understand my lack of patience waiting for the new hockey season, as sports have been really messed up in the wake of the brutal pandemic. They Tweeted "Mondays in October without hockey just hit different." I responded, "The wait for hockey to return is excruciating." My absolute favorite team responded with: "We get it. Trust us. We get it."
That's something I adore about the Avalanche social media accounts. They're super empathetic and fun to be around. Something else I adore is their love of dogs. I can't count how many amazing times I have seen the cute video of the 2019 Avalanche puppy photoshoot. My favorite parts are Pavel "Frankie" Francouz rubbing Miley the Pit Bull puppy's belly, Cale Makar claiming a puppy as his new dog, and Ian Cole wanting to take one of the doggies home with him.
In addition, when they drafted Jean-Luc Foudy, they posted a photo of him with his dog and said he was on brand with the team. I just can't get over how awesome it is that they have a soft spot for pups. I have to wonder if it's because of their doggy mascot, Bernie, who I am sure helps run the social media accounts.
One of the common reasons people love the Avalanche social media is because they are interactive with fans. One person remembered the first time they Tweeted the Avs. It was just a nickname joke, but they appreciated the fact that the team responded. I've been following the team for about three to four years now, and I still feel like a first-grader on Christmas morning whenever they reply to me on Twitter. It absolutely gives me the impression that they care about their fans, such as when they said they loved to hear that my family member loved the Avs hat I gave them.
The Avalanche are also active listeners. For instance, somebody suggested passing on a compliment to a player, which then turned into a player compliment video party. That, and they were open to suggestions for Wallpaper Wednesday in October. I suggested Ryan Graves- and Sam Girard with his dog Tornade-themed wallpapers. Fans get a say, the social media team delivers premium content. It's a win-win situation!
Not only that, but their PR team is excellent! Not only did they send me a comforting message when I was having a rough day a week and a half ago, but they also sugar-sweetly helped a fan replace her merchandise. A fan was moving when her Avalanche glass shattered and she was sad about it. The team went to select a replacement and offered to send it to her home! That is so sweet of them.
I remember back in the summer or spring that I wrote an appreciation post of the Avs' hockey friends, the Colorado Rockies. I remember that their game ticket incentive really fueled my studying. I have to wonder if the Avs and Rockies bounce good PR ideas off of each other, or if their mascots are good at PR, or they hire really amazing employees. It's a mystery, all right.
I am also a fan of their Instagram presence. Their Instagram game is strong. I'm not sure if the photos posted on the platform were taken by Bernie, the best Saint Bernard ever, or a human photographer, but either way, the photos are absolutely amazing. If I were to meet the photographer, I would treat them to dinner at the Culver's restaurant in Thornton, Colorado. Specific location, I know. However, I enjoy the service I have received from there.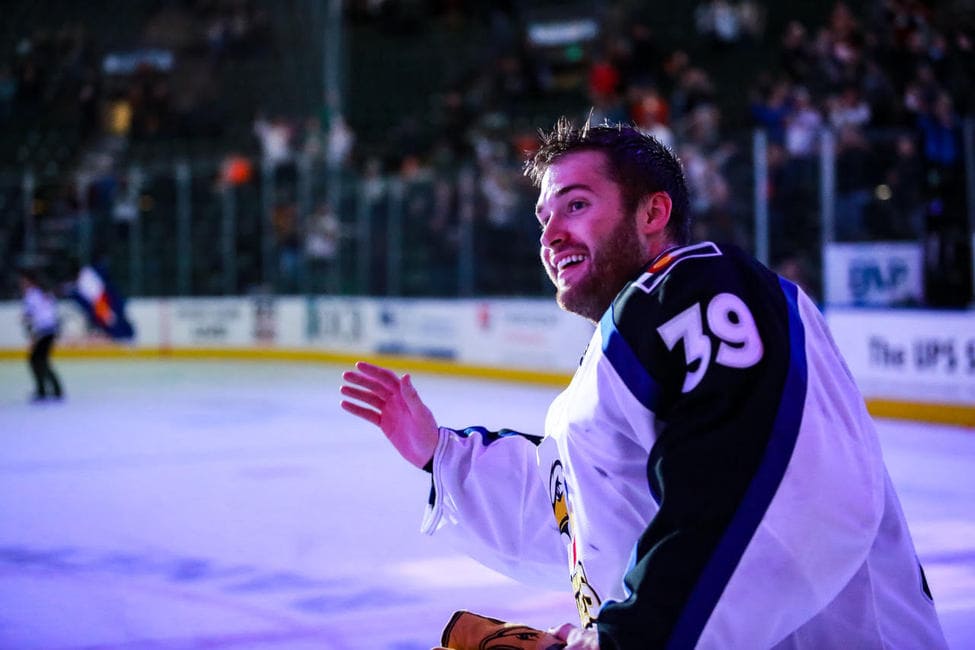 Something really hilarious is their Tumblr interaction with a fan who had an interesting interaction at a party. She said that a guy noticed her hat and asked her to be the babe to his Gabe. His first name ended up being Gabriel and they exchanged phone numbers, so she credited the Avalanche with reviving her dating life. They even got excited when she learned that the pair were going on a date! This story is hilarious, yet adorable. Their social media staff is versatile and fabulous!
Dearest Avalanche, I love your team, your mascot, your captain, your alternate captain, your entire roster, your doggo love, and your social media team. Your social media presence and awesomeness have made me a permanent fan. Keep up the great work. Sincerely, me.
SOURCES: