Going into college, I studied English literature and writing with hopes of carving out a career for myself in the novel-writing field. Halfway through my second year of college, however, I decided it wasn't the right path for me. I spent the next two and a half years studying sociology, something I was passionate about. In May of 2019, I received a Bachelor of Arts degree in General Sociology, along with minors in communications and international studies. Sociology is a really fascinating subject and is a major that can enhance skills you can use in the classroom and workplace. Here are ten things to know about majoring in sociology.
#1: Be prepared to do quite a bit of writing. This tidbit comes from personal experience. From weekly three-page essays in my introductory sociology class to an eleven-page report on Puerto Rican water quality after Hurricane Maria for an environmental sociology class, I can honestly say that my coursework has played a major role in shaping my written communication skills. Be prepared to write quick essays on textbook chapters and long reports on class topics. Advanced writing skills are the sociology major's best friend.
#2: Keep in mind that you'll have to take additional math classes. At the university I attended, to receive a bachelor of arts degree, students were required to take a statistics course, a research methods course, and a computer methods course. You'll want to pay special attention in research- and statistics-based courses during your sociology education. I can speak from experience, doing my best in the classes really helped me with my undergraduate thesis!
#3: Get ready to read. Sociology is a reading-heavy class. There's a method to the endless read-a-thons, however. You'll understand how sociology is applied in the real world. From how the criminal justice system varies greatly from country to country, to how weather events such as major snowstorms or heat waves affect people of various socioeconomic statuses, you'll learn so much about the world around you!
#4: Be prepared to face a great mix of topics. Sociology covers a wide variety of topics. After all, it's the science of society. You'll learn about how you connect to the world in things such as nonverbal communication and how you achieve goals you set for yourself. There are also some not-so-pretty topics, such as racism, sexism, and poverty. It's important to keep in mind that it's wise to consider the perspectives of others on all different kinds of issues.
#5: You'll develop oral communication skills. Surprise! Oral communication is a key classroom and workplace skill that sociology majors develop. Whether you're doing a presentation on how low-income students can get access to quality education or a group project on whether or not the death penalty should be abolished, you'll become an effective communicator. Oral communication is helpful in many different industries.
#6: Research is your best friend. I got emotionally invested in doing research for my undergraduate thesis, I won't lie. As soon as I saw a source that I would find helpful, I made sure to save it in any way I could. I was very fascinated by the research I did. The information I gathered to support my perspectives left me completely blown away. I also had fun doing research for my environmental sociology report on Puerto Rico's post-hurricane water supply. It was really interesting learning new things. Research is your best friend because you'll develop strong critical thinking and problem-solving skills.
#7: Sociology degrees will teach you survey skills. I'm convinced that survey skills are the reason I like to do polls on Twitter on topics ranging from whether or not it's okay to recline your seat on an airplane and how many times people click the lock button on their car keys. I also have seen classmates and friends do surveys for school work-related reasons. I even created a survey myself! Whether for class, work, or fun, survey-based knowledge is a robust bonus.
#8: Current events can be a real lifesaver. From what I remember in my introductory sociology class, I was supposed to find news articles to go along with the topic being covered in class. If I'm being honest, current events have helped me throughout my sociological studies. Being aware of what was going on in the world helped me with assignments from a corporate social responsibility project in my sports studies class to the eleven-page report I wrote for environmental sociology. In fact, keeping up with the news can help in all subjects, in my opinion.
#9: Be open to many opportunities. In addition to a Bachelor of Arts or Bachelor of Science degree, you might pursue a minor or a second major. Someone might double major in sociology and psychology. Someone might double major in sociology and political science with minors in business administration and history. Someone might pursue a master's degree, medical school, law school, or a doctoral degree. Be open to the opportunities sociology presents. It made me want to pursue a master's degree.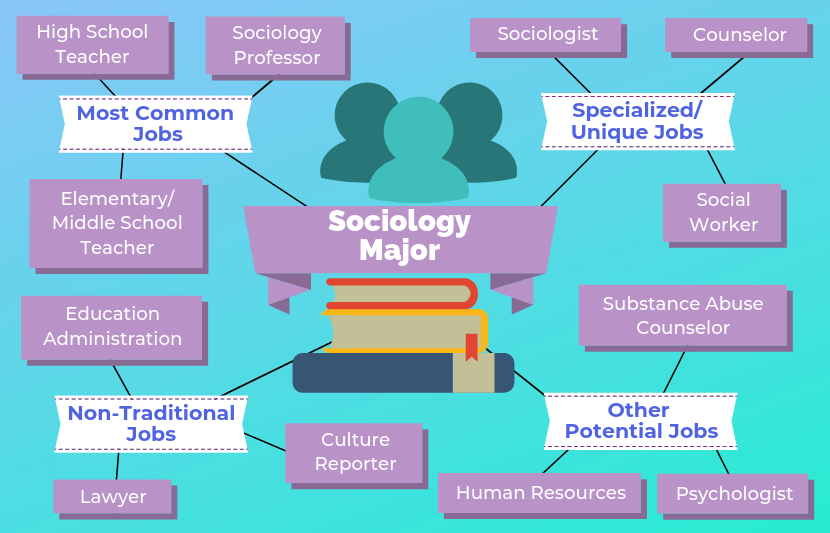 #10: Application is more prevalent than memorization. This has been a theme throughout my education. I found myself looking more into how Sociologist PQRS' framework fits into educational inequality than every tidbit of Sociologist PQRS' complete works. Reports were more about how Social Theory X is applicable to global health than they were about all the facts about Social Theory X. Assigned readings were less about sociological concepts and more about how said concepts were applied to global water inequality. Story in short: sociology is great for people who want to learn more about the world around them.
What other questions do you have about studying sociology? Let me know in the comments below.
SOURCES & INSPIRATION:
https://www.servicescape.com/blog/100-sociology-research-topics-you-can-use-right-now