I really wanted to go to Ohio the summer after I graduated from college. The reason is that I wanted to see the All-Star Game at Progressive Field in Cleveland. Come to think of it, I'm really interested in taking a trip to Ohio in general. One day, I'd like to write a novel that takes place in the state of Ohio. Here are ten destinations that I'd love to visit in Ohio.
#1: Progressive Field. The Cleveland Baseball Team, who will go by the name of the Cleveland Guardians, have a special place in my heart. Not only are they social media friends with another team I care about, the Colorado Rockies, but I won a holiday gift from them about three years ago. The fact that they play "Cleveland Rocks" when they win a home game is enough to make me want to attend a game at that stadium. I bet that the vibes there are fantastic.
#2: Great American Ballpark. I can already imagine laughing my elbows off at Joey Votto being an absolutely delightful member of society. He's hysterical. I also can smell their food from my desk. I can imagine just how delicious their chili is. The ballpark also seems like a really fun place to be at. Honestly, I'd love to visit all the Major League Baseball ballparks.
#3: Cedar Point Amusement Park. My eighth grade math teacher showed my class a video of a very iconic ride at Cedar Point. Before getting into the lesson, she described the Top Thrill Dragster and her experience before showing us a YouTube video of the ride. Since it's a very fast, very high ride, I will have to experience one of the most notorious roller coasters in my state. There are some other roller coasters that I'd love to ride on.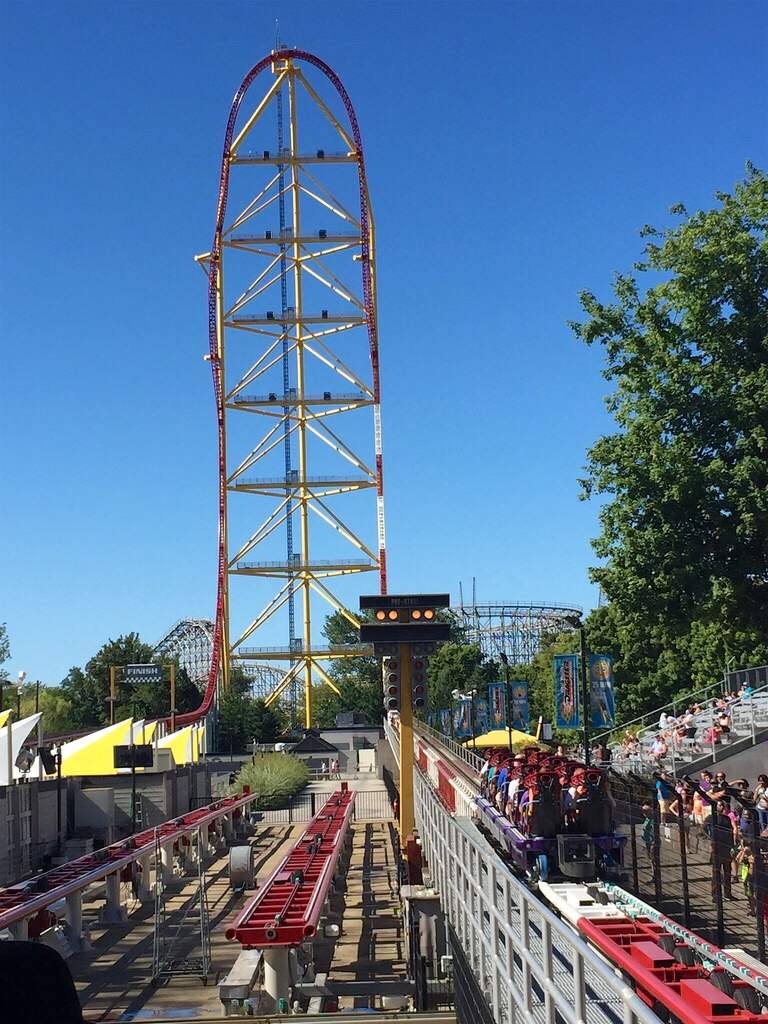 #4: Pro Football Hall Of Fame. First things first, congratulations to the Pro Football Hall of Fame class of 2021! I'm a girl who loves sports. Professional football has fascinated me since I was six years old. I grew up watching the Denver Broncos, who are my favorite football team. Some other teams I enjoy include the New Orleans Saints, Tennessee Titans, and the Seattle Seahawks. I'm really interested in learning about the amazing achievements of some of the most beloved athletes in American Football.
#5: Rock & Roll Hall Of Fame. About a month ago, I attended a concert consisting of four acts, the final act being Green Day. My sister and I decided to watch some videos of the bands performing live to "pregame" the concert. One of the videos was a live performance at the Rock & Roll Hall of Fame, where they are living their best lives. I grew up on music such as The Beatles, Deep Purple, and Moody Blues. Just thinking about this attraction has me headbanging!
#6: Columbus Zoo & Aquarium. Asking me if I want to go on a trip to the zoo or aquarium is a surefire way to put a big smile on my face. Doing both in the same day really makes me happy. This is where the Columbus Zoo & Aquarium comes into play. I can make a trip to see the smart, adorable elephants and the joyful, friendly stingrays all on the same day. It's a big bonus, in my opinion.
#7: Cleveland Botanical Gardens. I'm kind of a plant nerd, honestly. I love going around and identifying flowers. Some of my favorite include sunflowers, daisies, and tulips. I grew up in a community of gardeners, so that inspired me. Plants and trees are so pretty to look at.
#8: National Underground Railroad Freedom Center. In high school, social studies was my favorite subject. I'd like to take the time to thank my tenth grade geography teacher for that. Therefore, I enjoy the prospect of visiting the National Underground Railroad Freedom Center. I just really like museums.
#9: American Sign Museum. Speaking of museums, the American Sign Museum sounds like a really fun place to be. It would be so cool to see the different signs for restaurants, tourist attractions, things like that. There's something about neon signs that is really endearing.
#10: Cuyahoga Valley National Park. As much as I enjoy museums, I enjoy national parks even more. In fact, visiting every single one of the national parks in the United States is on my bucket list. Visiting this park will not only let me connect with Mother Nature's beauty, but let me get closer to crossing an item off my bucket list.
What places in Ohio would you like to see? Do you have any attractions in the state that you recommend? Let me know in the comments below.