It's the year 2020. I had purchased tickets to see the Colorado Avalanche play the Vegas Golden Nights on Sunday, March 15 of that year. I was really excited for it. I even planned out an outfit in my head: my Nathan MacKinnon jersey, blue jeans, an Avs beanie, and burgundy boots. It was going to be an awesome day.
The pandemic changed all that. My first in-person Avs game was going to have to wait. All was not lost, however. For Christmas, I decided to gift my sister tickets to an Avalanche game: March 31, 2022, versus the San Jose Sharks. I have planned out my outfit: my Nathan MacKinnon jersey, red jeans with an animal print, burgundy boots, and an Avs beanie. I am super excited for this game for more reasons than one.
I will never forget falling in love with the Avs and the National Hockey League when I was in my third year of college. My heart was immediately stolen by Nathan MacKinnon, especially considering the fat that he adores dogs. Plus, that year, my brother and I began working at hockey games selling concessions for the Colorado Eagles, an affiliate of the Avalanche. Dirty little secret: I met the Avs mascot, a Saint Bernard dog named Bernie, at the Eagles games. He is an extremely good boy. I digress.
Speaking of Nathan MacKinnon, I am really looking forward to seeing him play. This man is the love of my life! I mean, who can resist the award winning, blue-eyed dog lover with a handsome Nova Scotia accent? Not me! In fact, Nathan is the person who got me into professional hockey to begin with.
I am also looking forward to reuniting with Bernie. It's been a hot minute since I have seen the good boy. I wanna air hug that handsome dog and scratch at his ears. There's just something about scratching a dog's ears that is the best thing in the world. Perhaps it's a serotonin boost. Perhaps it's building trust with the dog. I digress.
I'm also really looking forward to seeing Cale Makar. I have a huge crush on Cale. He's really good looking and he loves dogs. Plus, he's brutally talented at hockey. I can't wait to swoon over that Canadian cutie. His piercing eyes are a trap and a spell. He wins my heart every time.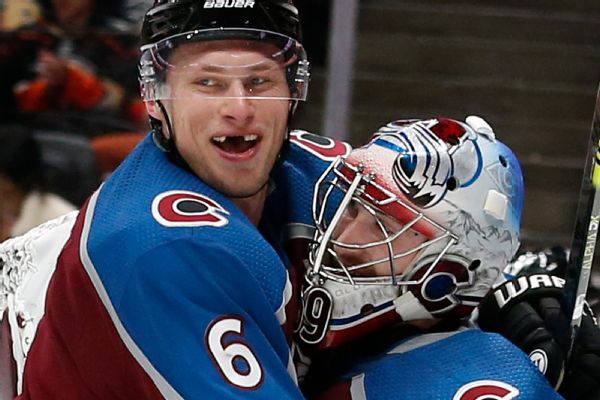 One last thing I am very excited for: their excellent goalies! Recently, from what I have seen, Pavel "Frankie" Francouz and Darcy Kuemper have been behaving like brick walls. Part of me hopes I get to see Frankie play. I am of Slavic descent, and he is from the Czech Republic. It would be really cool getting to see a player who has similar cultural heritage as me.
I can't wait for this game! I look forward to having an intense amount of fun.