Mario Party 8 is one of my favorite video games. I don't really play it to play the "party mode," which is the mode where you play on different themed board game-like levels. I like to play the minigames. There are those I love, and those I don't like very much. This list will be based on how difficult, fun, and engaging the games are. It will be divided into five posts. Extras Zone minigames are excluded from this list.
#52: Fruit Picker. This game is a very good test of your memory and attention to detail. In my opinion, this is the trickiest Challenge minigame developed. Unless you.have an excellent memory, it's a guessing game that may or may not result in you winning. I recommend practicing frequently.
#51: Pour To Score. Another minigame worth practicing on a regular basis. It's so easy to pour too much sand or too little sand. It's all about control.
#50: Stampede. I find it tricky to control the stress and stay focused. For some odd reason I feel like this minigame set me up for success in admin assistant jobs. Maybe it developed my attention to detail.
#49: Glacial Meltdown. This minigame means business. Do whatever it takes to balance your character on the ice floe and dodge enemies. Challenging, right? That's why it's a challenge minigame.
#48: Saucer Swarm. I'm a space nerd. This minigame is a fun challenge and has a funny ending. Characters get abducted by aliens and are taken away. It's so funny! Also I believe in aliens.
#47: Ion The Prize. I have a trick for beating this minigame. At the end, when a bunch of neon balls fall down, don't tilt in either direction. In fact, keep the bar even. You should win.
#46: Settle It In Court. Basketball is my third favorite sport. I almost played the sport myself. So this is sort of making up for that fact.
#45: Balancing Act. I remember getting to watch a circus during a trip to Europe nearly thirteen years ago. This is almost a throwback to that vacation. In addition, it kind of feels like a circus school final. That reminds me, I want to apply to graduate school.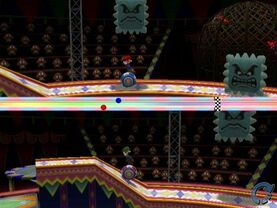 #44: Lava Lobbers. Rotten day? Play Lava Lobbers! You can blow off steam by knocking your enemy into the lava. Just thinking about that is satisfying.
#43: Specter Inspector. I believe in ghosts and the supernatural. This game is a lot of fun. It's also a throwback to Luigi's Mansion.
#42: Rudder Madness. Yes, the river is slow. However, it's kind of a fun way to go tubing without actually going tubing. I know I might not make sense. I would like to go tubing one day in real life.
#41: Sugar Rush. The pressure is on with this one! It's important to be careful when doing this to make sure you decorate the cakes right. This makes me wonder how many people got inspired to go into cake decorating.
#40: Bumper Balloons. Sweet revenge! The trick is to pop others' balloons. It makes me feel as if it's generated to get back at characters for wronging you. Petty, I know.
This list is to be continued! Next: Rankings 39-27.